The EKol® System transforms traditional installation techniques and offers an advanced constructive solution for glass coverings designed on the basis of two components:
Component A (EKol® glass beads – composed of 80% or more recycled glass) +
Component B (EKol® Mortar – cement based and globally proven by Latricete®).
Designed with top technology, this innovative system takes the design of sustainable coverings to a new level for walkways, floors, walls, and wet and submerged applications, making it the best choice today for projects aspiring to a finish of natural beauty, great quality and durability, without exploiting natural resources.
The new generation of glass coverings. EKol® is composed of small polished, smoothed glass beads that possess unique tonal variations and brilliance and provide a texture reminiscent of a natural pebble finish but with all the benefits of glass.
Our BIOSPHERE – Biosfera and AQUATIC – Aquatica Collections offer enamel, translucent and opalized finishes in the same blend. Over 15 blends available. Packaged in 18 kg (approx.40 lb) bags.
The most complete installation plan in the industry. Mortar globally proven by Laticrete® offers a solid, construction system developed by experts to guarantee professional installations with integral laying techniques, certified labor, top quality products, and maintenance.
Mortar with improved formula and antibacterial technology provides exceptional adhesion and resistance, guaranteeing top performance. Recommended thickness for installing in modules of 7 mm (approx. 0.27 inches) :: 10 mm (approx.0.4  inches). Available in 20 kg (approx. 44 lb) bags.
2 bags of Component A x 1 bag of Component B
Yield is estimated according to the composition of the system and varies between 1.8 m (approx.6 ft.) and 3.5 m (approx.11.5 ft.). Yield is approximate; actual yield varies according to substrate conditions, size of the area to be covered, and thickness.
KOLORINES®, indisputable international reference in the world of Pool and Spa decoration, presents the new generation of glass covering: EKol®. Composed of small polished, smoothed glass beads whose brilliance and tonal variation provide an inimitable natural texture finish in and out of the water.
As part of a continuous evolution and steadfast commitment to design, KOLORINES® confirms its leadership with this new line that simulates a natural stone finish but with all the benefits of glass, bringing design to a new level in coverings for walkways, floors, walls and submerged applications,
EKol® arises from the innovative spirit characteristic of KOLORINES® and creates ambiences of great beauty and distinctive style.
A System with international quality of:

EKol® philosophy is based on the belief that the best design is environmentally friendly, and proof of this is that EKol®:
Does NOT exploit or plunder natural resources such as rivers, coasts, streams, beaches or lakes to obtain its product.
Does NOT use animal residues such as seashells for adding shine to the stones. Mineral processes produce the required sheen, excluding the need to crush shells.
Is made up of a high percentage of recycled glass (80% or more*). By making improvements to its manufacturing system, all the materials used are reduced, reutilized and recycled.
Thus EKol® manifests its commitment to taking design to a new EKOLOGICALLY SUSTAINABLE level.
* All the blends in the catalog contain a variable percentage of recycled glass as their composition is based on 2 methods of recycling:
POST-CONSUMPTION: recycled glass: glass items such as containers, bottles, jars and window glass are melted down and used as an ingredient in the EKol® manufacturing process.
PRE-CONSUMPTION: glass mosaic, retained for failing to meet quality and control standards due, for example, to breakage or imperfections, is recovered and reincorporated into the manufacturing process.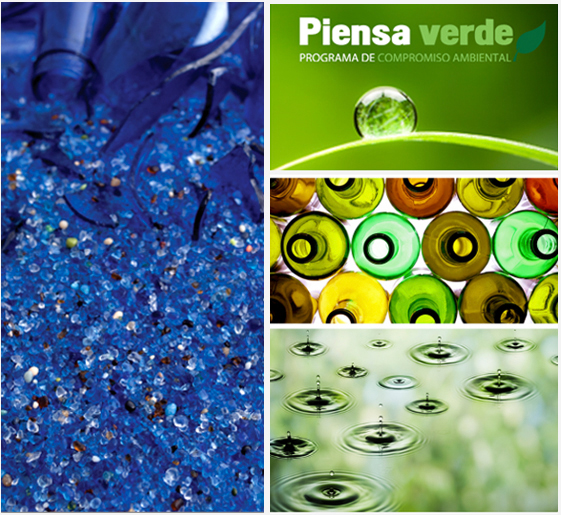 As a result of its commitment to the belief that the best design is environmentally friendly, MVM–Mosaicos Venecianos de México® was awarded FIRST PLACE in ECO-CHAC 2011 in the MATERIALS AND RESOURCES Category for its REUSE AND RECYCLING OF GLASS technology in the EKol® manufacturing process. EKol® products are made up of 80% recycled glass thanks to improvements in the production system that reuses, reutilizes and recycles the manufacturing materials.